Positive Training for Positive Results
Good Boy Pet Care & Nutrition is a professional dog obedience training business in Miami. We specialize in obedience training, behavior modification, house breaking, and puppy consulting. Our canine trainers are certified professionals that concentrate on fixing behavioral problems without the application of fright, injury, or intimidation so that pets will have fun with the learning process and retain their teachings. Schedule an appointment request online or give us a call at (786) 360-5873 with any questions.

Puppy Training
Registering in puppy courses prior to 3 months of age can be an exceptional means of enhancing training, strengthening the human-animal bond, and also socializing pups in an setting where risk of health problem can be reduced. In general, puppies can begin puppy socialization courses as very early as 7-8 weeks old. Puppy socializing courses use a risk-free and also organized methods of mingling pups as well as more quickly enhance their responsiveness to requests. Early and ample pup socializing and programs of favorable pet dog training can go a long way to preventing actions problems and also enhancing bonding between human beings as well as pet dogs. While the first 3 months is the most important pup socializing duration in a pup's life, owners of pups that have passed this landmark are highly urged to continue to socialize their young puppies to as many people, animals, and places as useful.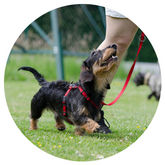 Beginner Training
Beginner training for dogs is vital. Pet dogs aim to please, so with these beginner techniques and also methods, they will certainly give your pet's chances to make you satisfied. Our programs start with the traditional sit, stay and come. However as your pet advancements, we provide a lot more difficult demands that are offered in our various other programs! These are created to maintain your dog involved as well as on their toes.


Behavior Modification
Here at Good Boy Pet Care & Nutrition, we concentrate on dog behavior modification. Dog behavior modification is where we change existing pet dog habits. This consists of however is not limited to training in or modifying leash decorum, eating, pet dog source safeguarding, barking, splitting up anxiousness, leash lunging, chain hostility, dog-on-dog hostility, as well as pet dog to human hostility.


House Breaking & Potty Training
House training your young puppy has to do with uniformity, patience, as well as favorable reinforcement. The goal is to instill excellent habits as well as develop a caring bond with your family pet.
Experts recommend that you start home training your young puppy when they are in between 12 weeks and 16 weeks old. At that point, they have enough control of their bladder and bowel movements to learn to hold it. With Good Boy Pet Care & Nutrition's expertise, we offer you the devices and also strategies to ideal home train your brand-new furever friend.
Come visit our pet supply store in Miami, FL specializing in quality food, treats, and supplies for cats and dogs.